The Accident Season
by
Moïra Fowley-Doyle
Published August 18, 2
015 by Penguin Group
GENRES: Young Adult, Fantasy, Paranormal, Mystery, Contemporary, Magical, Fiction, Romance, Ghosts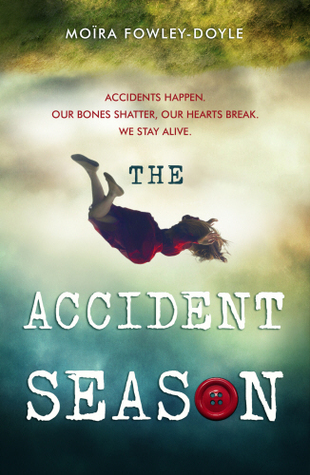 Overview#1:
For fans of We Were Liars, How I Live Now, and The Ocean at the End of the Lane comes a haunting, sexy, magically realistic debut about a family caught between a violent history, a taboo romance, and the mysteries lurking in their own backyard.
Every October Cara and her family become inexplicably and unavoidably accident-prone. Some years it's bad, like the season when her father died, and some years it's just a lot of cuts and scrapes. This accident season—when Cara, her ex-stepbrother, Sam, and her best friend, Bea, are 17—is going to be a bad one. But not for the reasons they think.
Cara is about to learn that not all the scars left by the accident season are physical: There's a long-hidden family secret underneath the bumps and bruises. This is the year Cara will finally fall desperately in love, when she'll start discovering the painful truth about the adults in her life, and when she'll uncover the dark origins of the accident season—whether she's ready or not.
• • • • • • •
Overview#2:
It's the accident season, the same time every year. Bones break, skin tears, bruises bloom.

The accident season has been part of seventeen-year-old Cara's life for as long as she can remember. Towards the end of October, foreshadowed by the deaths of many relatives before them, Cara's family becomes inexplicably accident-prone. They banish knives to locked drawers, cover sharp table edges with padding, switch off electrical items - but injuries follow wherever they go, and the accident season becomes an ever-growing obsession and fear.

But why are they so cursed? And how can they break free?